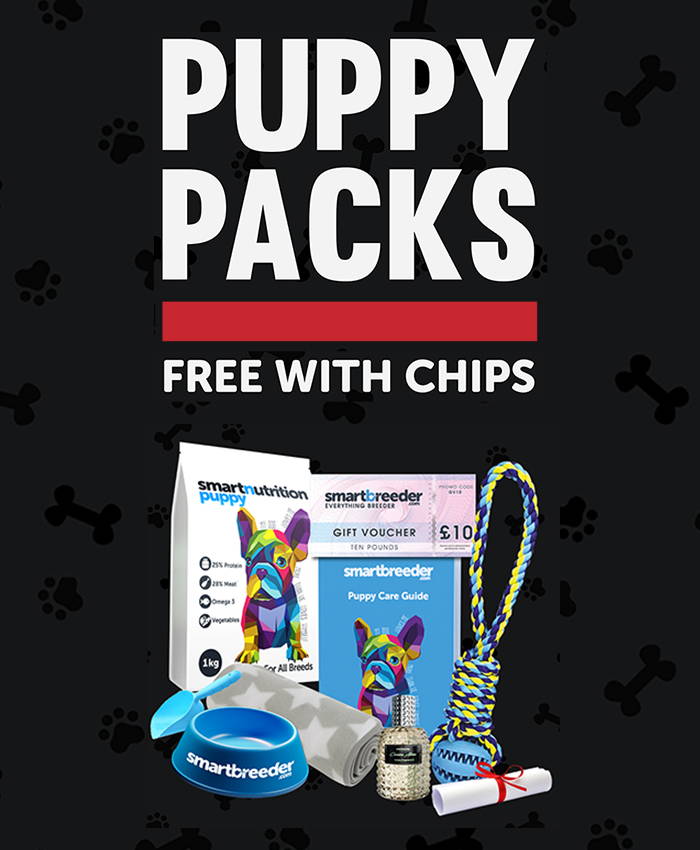 You order Microchips from Smartbreeder (20 for example)

Your 20 microchips are delivered to you along with a book of 20 puppy pack vouchers.

You give the owner of each animal that you microchip Free puppy pack voucher.

You or owner use code on our website to redeem puppy pack.
EXISTING CUSTOMERS
This offer applies for all Microchips of any size/quantity bought on or after 08/01/2020

NEW CUSTOMERS
We GUARANTEE to beat the price you currently pay for microchips by a minimum of 30% - send us your last quote/receipt/invoice and we will beat it.
Our microchips come with FREE registration, 2 FREE new owner transfers and FREE next day delivery.
Microchips are registered to SmartTrace database (Fully DEFRA approved/ICO compliant etc)
3 FOR 1 DEAL

If you have Microchips from a different supplier (not Smartbreeder) we will swap any microchip (that isn't a Smartchip) for 3 of ours - hassle free collection & delivery (our courier DPD NEXT DAY will collect your old and deliver your new chips at the same time) FREE