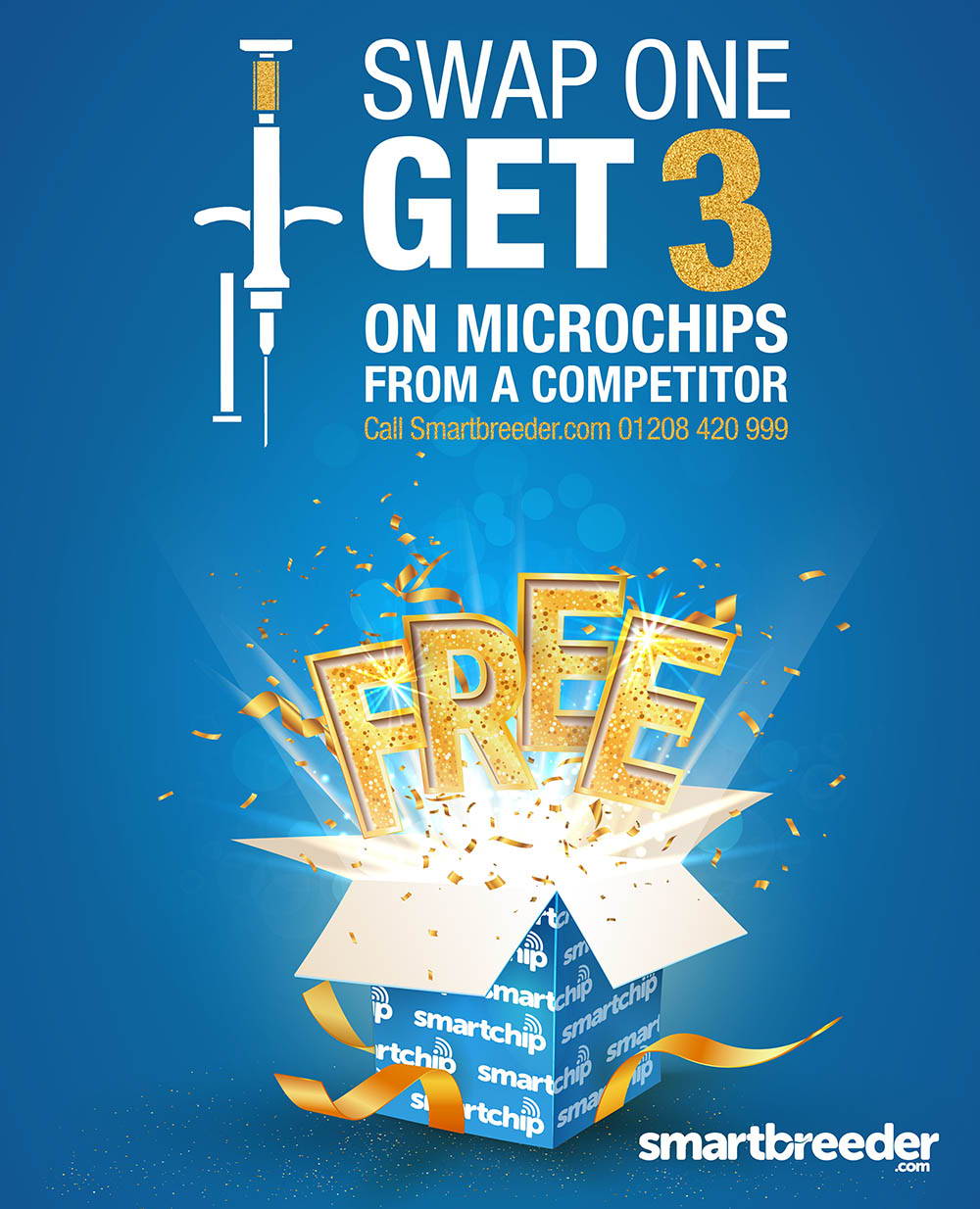 SWAP
Whether it's 1 Microchip or 10,000 we will swap each competitor Microchip for 3 of ours.

HASSLE-FREE



Our courier will collect your old and deliver your new chips at the same time. FREE

FREE TRANSFERS



Each microchip comes with FREE registration and
2 FREE new owner transfers.

→ Microchip a litter for a breeder
→ It's free from you to them
→ free again from breeder to new owner

SIZES



We stock 12mm Standard, 10mm Midi, 8mm Mini & 7mm Nano

LASER TAG



Each microchip also comes with a laser disc dog tag with the unique serial pin etched on-to the back of the chip - we are the only supplier that offer this.

DATABASE



Microchips are registered to smarttrace database (FULLY ICO/DEFRA APPROVED & COMPLIANT)

SUPPORT



Our UK based call-centre is full operational 24/7 365 days a year.

QUALITY



Unlike any other Microchip supplier in the UK we manufacture our own microchips so we 100% GUARANTEE the quality of every microchip

---
Why do you offer 3 for 1 swaps, what's the catch?
As a DEFRA approved database, our mission has and always will be to supply more microchips than any other supplier in Europe, as the biggest in Europe, 3 for 1 swaps gives us an advantage over our competitors.
Will my current supplier know that I have swapped my microchips?
NO, all swaps & exchanges are 100% client confidential, your current microchip supplier will never ever know under any circumstances.
Is there a maximum or minimum number of microchips you will exchange 3 for 1?
Whether you have 1 or 10,000, we will swap them 3 for 1 completely free of charge.
What will you do with my old microchips?
All competitor microchips are disposed of & recycled as part of our commitment to being environmentally friendly.
What if my current microchip supplier regularly sends me microchips, can I swap more than once?
We will exchange them 3 for 1, there is no minimum/maximum number of swaps.
Are there any microchips you won't exchange on the 3 for 1 offer?
No, we will swap any microchip from a UK  or Ireland supplier.
How do I swap my microchips 3 for 1?
Call or WhatsApp 07399459829 and we will take care of everything for you - we will organise our courier (DPD) to collect your old microchips free of charge and despatch your new ones, next day, completely free of charge.